Some Ideas For Trips
The roads on Mull are very variable and public transport is limited so, for many people, the most convenient and enjoyable option would be to be driven in comfort so that they can enjoy the views.
Round Trip Tours
North Mull Circular




A Tour of North Mull including Calgary Bay and Loch na Keal


This trip can start from any point in North Mull including Salen, Tobermory, Dervaig. Wherever you start from, the trip will take in Calgary Bay, Ulva Ferry, Salen and Tobermory.

Ben More, Glen Seilisdeir and Glenmore




A tour of central and south west Mull


This tour will include crossing from east to west Mull at its narrowest point. Then it will include visits to Gruline, Dhiseig, Glen Seilisdeir, Loch Scridain and Glenmore. It can of course be done in either direction.

Ben More




Ben More is Mull's only Munro and the walk starts at sea level


Whilst Ben More is most often walked via Dhiseig it can also be done as a round trip. You'll find details here.
There and back again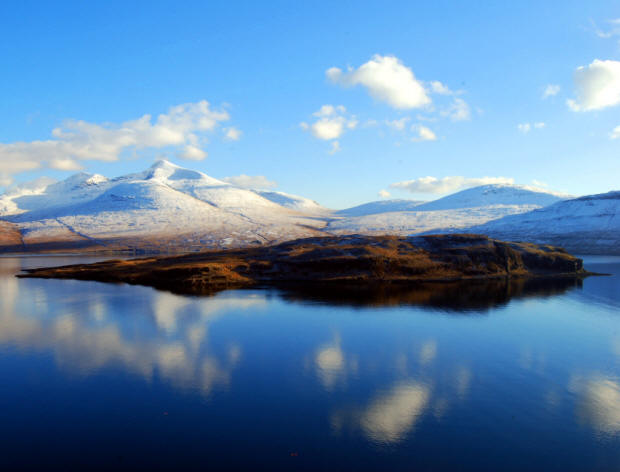 Mull Wildlife
Mull is blessed with a wide variety of habitats which means it has a variety of wildlife.
Having a resident driving you means that you can enjoy the views and also get 'local' knowledge on what can be seen and where.
Here is a list of some of the wildlife you can see, depending on when you are taking your trip:
Red Deer - they are the largest land mammal in the UK.
Seals - There are both grey and harbour seals in the waters around Mull.
Otters - Otters seem to do well on Mull and are seen regularly.
Hen Harrier - This bird is under pressure elsewhere in the UK but can be seen here.
Divers - Both great northern and red throat can be seen.
Puffins - These engaging birds can be seen in the waters around Mull and on some of the islands off Mull.
White Tailed Sea Eagle - These birds (our largest bird of prey) have established themselves very well on Mull after being re-introduced from Norway. Mull Eagle Watch is a long running scheme which gives people the opportunity to watch these magnificent birds at the nest.
Golden Eagle - This bird isn't quite as easy to see as the WTSE, but is spotted regularly.